A couple weeks back I had too much time on my hands and stumbled across a web site called Paper.Li, which performs a heart-warming task for old news hacks such as yours truly: it does all the work of putting a newspaper together and gives me all the credit.
The site's technology is sort of a twist on Google news: it uses an algorithm (so much superior to mere human intelligence — just ask those guys from Lehman Bros.) to scan hundreds of news bits and determine the ones you want to read most. The twist is that Google News is pure old-school: it scans actual news sites for news stories. Paper.Li figures the truly elite thinkers of our time are all lurking on like-minded Twitter feeds, so that's where it goes fishing for news.
Near as I can tell, posts with the most re-tweets and blog comments get top billing. If none of your friends tweet up the reports that well-meaning bureaucrats have just tripled your property taxes, well, who wants all that bad news in their daily newspaper anyway, right?
Of course I practically wet myself at the prospect of being able to build my very own tweetspaper.
Here are the results:
First I created a list of all the hiking & outdoors-related tweeps I could find, and used it to create the Hiking & Outdoors Daily. Later I decided I needed a second paper devoted strictly to outdoor gear and decided, in honor of all the dead afternoon dailies out there, to have two editions: Hiking & Outdoors in the afternoon and Outdoor Gear in the morning.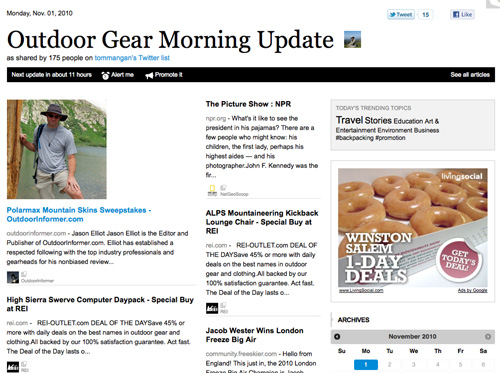 Alert Tweeps will note that Paper.Li is just a glorified Twitter list, but it has three essential advantages:
It scans only for links embedded in tweets, ignoring all the small talk and chit-chat.
It's updated every 24 hours — so you could, depending on your level of self-control — do all your Twitter reading once a day and leave it at that (strongly suggested if you have web-addictive tendencies. Not that we've ever met anyone like that).
The best stuff generally lands on the front page and the obvious spam typically gets buried. The algorithm is imperfect but it's better than scanning an entire twitter list, especially one with lots of feeds.
Speaking of Twitter, I've been tying to be a good Netizen and use it more often to share nifty digital tidbits. Here's my feed if you feel like following along. And I've been pinching myself to put my Facebook page to better use.
Bottom line: I'm trying to be more than a hike-a-week blogger — it's just not all happening on this blog.