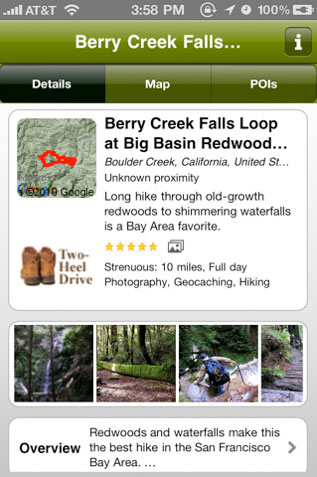 Rest easy, weary hiker, you need no longer fear the stratospheric price of $1.99 for my mobile hiking guides at EveryTrail.com. Actually, we stopped charging for new guides a couple months back, but about four dozen of my guides were still paid downloads because that was the original plan: oblige folks to shake loose a few bucks for content that cost a lot of money to produce.
Well, we've abandoned such Stone Age notions and joined the content-wants-to-be-free realities of whatever we're calling this decade we live in now. I'm not bitter about this. Really, I'm not. I like free stuff too. And there could be profitable ways to slice-and-dice all the wisdom I picked up along the way.
While I can't speak for EveryTrail's motives, I can tell from my most recent downloads that charging people for such a new category of technology was actively discouraging them from trying it out. In the time it's taken me to write this post, a couple of EveryTrail users have gone through and downloaded a whole bunch of my guides. This has never happened before.
As I've mentioned now and then, I have a contract with EveryTrail to write these guides. While it would be impolite to mention how much I earned from the downloads, rest assured the number was small enough that I did not have to be dragged kicking and screaming into the land of the free.
I've written about three dozen new guides in the past six weeks — this might sound odd for a guy living in North Carolina, but I'm still writing about trails in the Bay Area. The great thing about this blog is that I have documented reminders of everyplace I've hiked, so I'm going to work through the rest of my California hikes before moving on to North Carolina.
The first generation of guides had premium features: multiple photos and turn-by-turn points of interest. The latest bunch are more basic — a GPS track, a hike description naming the trails used, and facts about the locale (trailhead, driving directions, park hours, etc). Not nearly as ornate, but way, way cheaper.
The coolest thing about this new setup: "Bundles" of multiple guides are free, too. These are three I've done lately:
A couple more bundles Bay Area hikers and visitors might appreciate:
And these are my North Carolina Guides:
The rest are available at here.