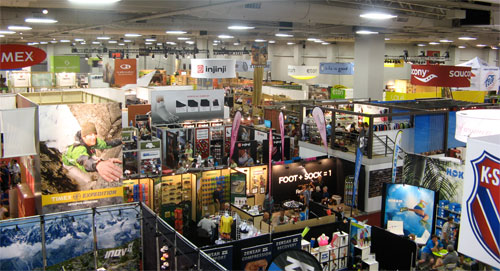 OK, so I had no intention of attending the breakfast sponsored by the Conservation Alliance, the good-deed-doing arm of the outdoor industry. Had other fish to fry (well, other pancakes to eat).
But I did to manage to catch the last few minutes of the speech by the Alliance Breakfast's special guest: Shelton Johnson, the black ranger from Ken Burns' "National Parks" series on PBS. I can't speak for the rest of his remarks, but Johnson was definitely on his game at the end.
I strolled to the open door to the ballroom to hear him talking about seeing an inner-city kid at Yosemite staring in slack-jawed amazement at a waterfall. Next words from the kid's mouth: "I never knew anything could be so beautiful."
After telling us how the wilderness can rewire a child's vocabulary, Johnson moved on to his own childhood. He described the time his mom and dad took him to the Bavarian Alps on a vacation that changed everything in his young brain, how he realized you don't have to die to get into heaven. You just need a good pair of hiking boots.
Greatest moment of the show for me, but I have another Great Moment to recount. Cool thing is it happened perhaps 15 minutes earlier in the same morning.
I broke my fast on Friday with the Boy Scouts of America, who were sponsoring a free pancakes-and-goodies buffet. I arrived just as they were starting so the crowd was pretty thin; I did get to meet the executive director and chat with the publisher of Boys Life, but things got really interesting when Wayne Gregory, founder of Gregory Mountain Products, showed up.
Within minutes he was advising the assembled Scouting luminaries on how to generate buzz for their trade show booth and get more people to stop by.
That set my head to thinking, so I raised my hand:
Me: "How about a contest: Are You Smarter than a Boy Scout?"
Wayne Gregory: "That's a great idea!"
Gregory's a hero of mine and a legend throughout the industry — within about two minutes of hearing him counsel Scout leaders on publicity matters I realized the guy has chops that extend way, way beyond designing backpacks.
Praise from Gregory made my day, till Shelton Johnson made it again.
Later that day, Johnson scrawled the same quote in a copy of his novel that I picked up at the Vasque Footwear booth. And about an hour later, Jennifer Pharr Davis, the Appalachian Trail speed-hiking record holder, signed a copy of "Becoming Odyssa," her account of thru-hiking the AT for the first time in 2005.
After that I chatted with some very cool people starting an environmental school in southern Utah, then got together with even more cool folks at a gathering of Twitter users not far from the Salt Palace.
Oh, I almost forgot to mention that Hikingboots.com did a video interview with me from a spot looking out over the Salt Palace.
I didn't think too much of Outdoor Retailer after the first three tries. It's difficult to cover it as a journalist without feeling like a tiny cog in an immense machine fueled by hype and self-regard. I always wondered about the cool stories protected behind that iron wall of affable, beautiful publicity people.
This time I went as a participant in the crazy capitalist scrum that the journalists and gear bloggers miss because they're so laser-focused on the latest and greatest. I didn't have to note the weights, retail prices and release dates, which gave me a chance to notice all the people out there doing their damnedest.
Yeah, they're in business to turn a buck; their motives aren't nearly as pure as the Outdoor Alliance would have you believe, but they are people energized by the promise of divinity that comes from lacing up a pair of hiking boots.
It's not like making Oldsmobiles and processed cheese foods.