I love it when a plan doesn't work out.
Last week at Stone Mountain was only mildly colorful at 2,300 feet, so this week I surmised the woods would be blazing around 3,500.
I woke at an absurdly early hour and set out for Price Lake on the Blue Ridge Parkway, aiming to arrive at dawn and capture a signature snapshot of blazing reds, yellows and oranges reflected in the still water.
Everything about this plan went awry. I left so early that it was still pitch black when I turned onto the Blue Ridge Parkway from Highway 421 just east of Boone. I had time to kill, so I stopped by Moses Cone Manor and clicked a few time-exposures.
OK, not bad, but not why I was here.
Julian Price Memorial Park was just a few miles down the road. I pulled into the parking area just beyond the dam to see this: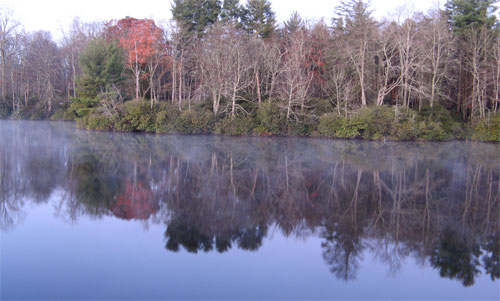 OK, so here I am shivering in the cold a hundred miles from my warm bed — and the fall color has fled.
Serves me right, actually, because I'm a total snob about "leaf season," which, to my mind, attracts throngs who appreciate nature only when it's bright and shiny.
And yet: I like bringing hope bright-and-shiny fall-color pictures like everybody else does.
So back to my Saturday morning. It's 33 degrees and the whole point of my being here fluttered to the forest floor a week ago. Should've been a flop, I suppose, but this turned out to be my favorite hike since McAfee Knob on the Appalachian Trail back in July.
I might've been too late for fall color, but I was just in time for morning color.
Little fingers of fog rose from Price Lake as I walked the 2.3-mile trail around the shoreline. That's Grandfather Mountain in the distance beginning to glow from the morning sun.
My favorite section of this hike isn't remotely photogenic: it's a backwater bog caused by busy beavers. One of their success stories:
It wasn't enough to chop down this tree; they seem also to have sheared off almost every scrap of bark.
I'd been walking nearly two miles before the sun rose high enough to illuminate the trees along the shoreline.
When the fall colors are really popping, the pictures practically take themselves. You have to try a little harder in the weeks after the peak — my favorite time of year to hike the North Carolina high country.
One more look at the morning fog on Price Lake.
Instead of completing the entire lake loop, I crossed the Blue Ridge Parkway and caught the Boone Fork Trail, one of the best hikes along the Parkway.
Here's the trail disappearing into the tree cover.
Boone Fork Trail descends to the confluence of two creeks — no matter how you hike it, it starts out with a comfortable downhill and ends with a pretty good climb.
It has excellent water features along the way. Few full-scale waterfalls, but dozens of pleasant, picturesque cascades.
Here's one on the way down.
Here's a scene from the return leg.
Either of these two loops is a pretty good hike for beginners, depending on your experience and fitness level. For veteran hikers, combining both loops creates an excellent hike of just under 8 miles and less than 1,000 feet of elevation gain. You'll have to time it right to miss the crowds — the park and its trails are popular for good reason — going on a weekday or starting out at dawn are the best options.
If you've done this hike just once, do it again, no matter what time of year. I suspect it'll be better during the 50 weeks of the year when the fall colors aren't stealing the show.
Julian Price Memorial Park links:
Google map

View 10-22-11 Julian Price Park in a larger map