This is a supreme act of geekery — A list of all my hiking gear:
Packs
Dana Designs Tattoosh 1500
You don't need to know much about Dana, except that he builds comfy backpacks. This one is designed for people who can climb mountains in a day trip — that strap on the left side is a good place to hang an ice ax. I bought it because it was small enough for day hikes and felt good in the store.
The scoop on Dana packs is that they have a zillion adjustment straps to shift the weight around and distribute it across the length of the back down to the hips. I can cram 25 pounds of stuff into this thing and walk around all day without getting sore shoulders.
Dana packs have a learning curve — I used this one a dozen times and always felt comfortable in it, then the other day I did some previously untried adjustments that made it fit even better. They're worth checking out but may be hard to find in stores.
Dana Design Terraplane LTW
Lately I've had it in my head to do some overnight backpacking. I was so fond of the fit of my other Dana pack that I bought this one online.
It holds reams of gear — I've gotten maybe 30 pounds of stuff in it so far with lots of room to spare.
It also has about twice as many adjustment straps as the Tattoosh, so finding the right fit is a bit of a chore. But the fit is nice once you get it.
Dana Designs Wet Rib
This is a little pocket called that lashes onto the shoulder straps (it's called "wet" because it holds a water bottle). I use it to hold my digicam… though someday I plan to put a beer in the bottle holder, hike to the top of a hill nearby and drink the beer as my reward. (I have a Thermos bottle cooler that keeps beer cold for hours. Very handy little doodad).
REI double bottle hydration pack
This is one of the first bits of gear I bought after I started hiking regularly. Back in the summer when the heat was sweltering, I'd pour each one halfway full and freeze overnight, then pour water over them the next day so my water would stay cool for several hours.
Novarra Big Drop hydration pack
REI sells these to go with their Novarra bikes. It has a 100-ounce Nalgene bladder that takes up most of the pack's capacity, but there is room for a wallet, keys and a Snickers bar or two in the pocket.
I bought this one because I liked the way the bladder's built — it's got an on-off switch at the bite valve end to cut off the water flow when the valve springs a leak (inevitable when you consider sharp teeth coming in contact with soft rubber.) It also has a nifty snap-off connector on the other end of the hose so the hose can be removed without spraying water everywhere.
Footwear
Wigwam Ultimax Cool Lite Hiker socks
High-tech socks are pricey as hell compared to everyday ones, but they're one of the best investments any hiker can make.
These ones have padding in the feet and wicking fibers that help pull sweat away from the skin — which translates into warm, dry feet in the winter and moderately comfortable ones in the summer.
Another nice thing about these high-tech fibers is that they keep insulating when wet — so if you step into a stream that goes over your shoes and your tootsies get soaked, they'll stay warm (though moist, admittedly).
They come in a raft of brands and flavors, but I suspect all do a much better job than tube socks from Walmart.
I haven't gotten a single blister since I started buying these high-tech socks last summer.
Montrail Leona Divide Trail-Running Shoes
Somebody I hiked with last summer suggested I try trail-runners so I picked these up.
They're light and airy, with great traction and long-lasting soles. I don't do any trail running with them — heck, most of the time I wear 'em to work because they're so comfy.
They're fine for day hikes in the five-mile range, but I like a stiffer shoe for longer slogs.
Merrell Chameleon Gore-Tex XCR Low Cross-Training Shoes
These are my main hiking shoes — they're really just boots without the high ankle support. Hard soles with kind of a goofy tread design (what's with those ovals?) get good grip on rocky ground.
I had to buy some of those gel insoles to provide enough padding to keep my feet from screaming after mucho mileage (all because of my tenderfoot status, not because of the boots), but otherwise they were fine.
The Gore-Tex liners are hot — which makes these less attractive in the summer, but in winter they're bone-dry no matter how muddy the trail is, so the tradeoff is worth it.
I've worn half the tread off these and I'm sorta dreading the day when I have to buy new ones. Hate to give these guys up now that my feet have taken a liking to them.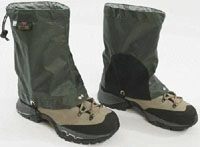 Integral Designs eVENT Shortie Gaiters
These keep mud off the pant legs and pebbles out of the shoes. Handy in the winter when the trails around here get all gooey.
They have to be put on before the shoes, which requires a bit more advance planning than I prefer — inevitably on the day I think "surely by now the trails have dried up so I don't need my gaiters" I'll stumble across a muddy patch of trail that'll make me regret not bringing them along.
Clothing
Land's End Fleece Pullover
If you go shopping for fleece at stores like REI you'll find all these dazzling shirts that start at like $60. But if you shop around there are deals to be had. I picked up three of these right after Christmas marked down to $15 apiece at Sears.
I don't know how well those pricey shirts work, but these tops are fine by me: lightweight, quick-drying, warm when wet. And way, way cheaper.
It pays to be picky about fleece, because it comes in so many flavors. Melissa bought me some fleece shirts at Old Navy that are so warm they do their job too well: It doesn't get cold enough in Northern California to require that much insulation. I wear them for casual use, but I prefer the lighter Land's End variety when I work up a sweat.
Nike Dri-Fit Track Pants
A bit pricey at $55, but I picked 'em up on sale to ease the bite.
The "Dri-Fit" fabric really works when wearing a pack with a hip belt. Normally I'll wear sweat pants in the winter and end up with my butt soaked with sweat from the pack's belt.
These, however, wick away moisture as advertised and leave the area comparably dry (which is nice because it prevents an ugly wet spot on my car seat when I drive home from hiking).
They're also light and breathable, though probably a bit too warm for summer hiking.
Marmot PreCip Jacket
Marmot gear is top-of-the-line, and you pay for it. This lightweight rain jacket cost $99, which seems like a lot except for the fact that it does everything it should, and does it well.
The fabric is supposed to be "breathable waterproof," but like Gore-Tex, it's more waterproof than breathable, so it's less than ideal for regular outdoor workouts.
But it's a great take-along item for those days when I work up a big sweat climbing a steep trail, then hit strong winds at the top. If I'm wearing a fleece shirt, which still insulates when wet, I just slap this coat on and I'm warmed back up in minutes.
Overnight
REI Quarter Dome UL Tent
REI bills this as a two-person tent, but I plan to use it for solo camping (Melissa prefers real beds and real walls).
It weighs in at less than five pounds with all its poles and stakes, which makes it plenty light enough to stuff in the backpack.
It's pretty easy to set up: just slide two poles through those orange sleeves and clip in place. I spent a day putting it up and tearing it down in the living room; now all I have to do is try it out at an actual campsite.
Therm-a-Rest ProLite 3
This is way cool — Foam in an airtight package that makes it part backpacking pad, part air mattress.
Just open the valve and the foam starts taking shape, "self-inflating," the saying goes. After it's taken shape, a couple hard puffs into the valve fills it up the rest of the way, then the valve can be used to adjust the pad's stiffness.
It almost seems like a side benefit that it provides insulation from the cold, hard ground.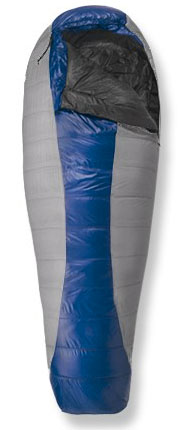 Marmot Pounder Plus +25 Sleeping Bag
This is filled with a dazzling synthetic fiber called PrimaLoft that is as light as down (the whole bag weighs in at around 2 pounds) but still insulates if it gets wet.
Many ducks, geese and other creatures with natural down insulation will no doubt be thankful.
I bought this bag at REI, then went poking around online to see if anybody else was selling it. I couldn't find it anywhere else, nor could I find any reviews. I trusted Marmot's reputation and liked the super low weight. I was looking to avoid down because it's such a pain to clean a down bag.
This bag is light, fluffy and toasty warm, though I haven't tested the 25-degree rating yet.
Petzl Zipka Headlamp
This is an ultra-light LED light that straps onto the forehead. It won't blind anybody but it'll light a trail for hours using triple-A batteries. These LED lights are so handy it's a wonder anybody even uses flashlights anymore.
Leki Super Makalu Trekking Poles
These are in the overnight category because they're most practical for backpacking vs. everyday walking and hiking.
I bought these with birthday money (thanks Mom!) so I splurged on the really good ones, but I wouldn't necessarily recommend shelling out big bucks for trekking poles.
Trekking poles take the load off your legs and distribute it — sorta like giving you an extra (though skinny) pair of extremities. Taking that weight off your legs is a mixed blessing because it cuts stress to the knees and feet, but weakens leg muscles that have less work to do.
Walking with poles also means you have to do something with them when you need your hands, like when taking a picture or getting a drink from a water bottle.
Trekking poles have a lot of upsides, however. If used correctly they give a more full-bodied workout, and they do even the load on long walks with heavy weight, like backpacking expeditions. They boost stability and balance, and make stream crossings and rocky stretches of trail easier to navigate. They can substitute as tent poles. And they make uphill climbs a lot easier.
They're good to have along on long treks and steep trails, but you can't get the pluses without a few minuses.
Survival
Adventure Medical UltraLight .7 First Aid Kit
Bandages and other handy stuff for day hikes. I figure there's good karma in having a first-aid kit in my pack. As long as it's there I'll never have to use it. (I have a snakebite kit for the same reason).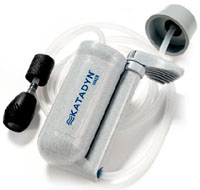 Katadyn Hiker Filter
In the backcountry, hikers save pack weight by carrying a filter and pumping water from streams as they need it.
You can treat your water with chemicals but filters like this one from Katadyn tend to produce better-tasting water, which you'll be more likely to drink in the profusion required to keep you alive.
Filters keep almost all the microorganisms out of in streams and lakes, but they also clog fairly quickly. Most veteran hikers recommend having a filter and water purification tablets in case the filter fails.
This Katadyn model is really nice because it has a little plug that connects to my hydration bladder, which can be filled in less than five minutes. It's a bit of a job getting situated next to a water source, but it's cool to get water from nature rather than a faucet.
Tacoma Mountain Rescue Storm and Survival Kit
Comes in a sealed can — I just drop it in my daypack and forget about it.
I've gotten off trails enough to know that if I ever get lost and have to spend a night in the bush, I'm going to want some basic supplies to maintain warmth and shelter.
Therm-a-Rest Lite Seat
Works like the big pad, provides an essential place to park your fanny if you get stuck somewhere.