Saturday dawned gray and bleak, a gloomy reminder of the storm that drenched the Bay Area on Friday (and hailed all over Melissa's freshly planted garden. She's still a little miffed). Within a couple hours, though, the skies were back to the familiar California blue, embellished by a few lingering cloud banks.
Turned out to be a perfect day for a walk in the outdoors, which was nice because Mike and his FOMFOK crew had a hike planned at the Sunol Wilderness. We had a special guest to be named later, who seemed to instinctively understand the path to the hearts of his hiking companions (yeah, there was alcohol involved …. nobody tell the ranger, OK?)
Lots of people had similar notions about taking to the trails. We saw a couple dozen backpackers in a few hours. Crowds on these trails are rare, though they do tend to show up about this same time every year.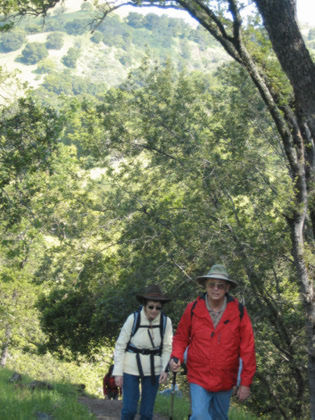 Gary, right, was our special guest; that's Kathy just behind. He's the paramour of Molly, the popular Fomfok mainstay last seen on our Pinnacles excursion. Gary's a retired IBM guy who now works part time selling wine up in Oregon. He treated us to a wonderful sample of a pinot noir (hey, I've seen the movie "Sideways" so I'm all about the pinot these days) when we broke for lunch. I'm thinking, say Molly, on those weekends when you can't come along, how about sending Gary down our way? We'll keep him outa trouble, I promise.
Sunol is wildflower central after the rains we've had.
Speaking of rain, it was mud central on a lot of the trails.
One of about 19000 scenic vistas included in the $5 park admission fee.
Peggy and Joanne gaze into an underwater ecosystem evolving in a watering trough. You gotta get outdoors to see this kinda stuff, folks.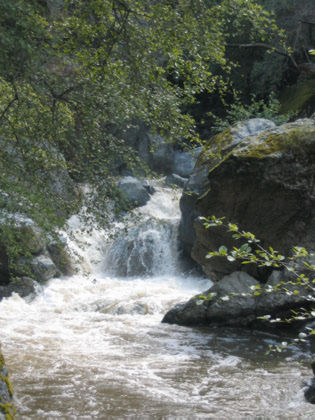 The Alameda Creek was a mad gusher in the area of the park they call Little Yosemite.
Speaking of madness, I suspect this guy is rehearsing for an appearance on "Men Behaving Badly."
A thistle is a harsh mistress.
Say cheese, folks!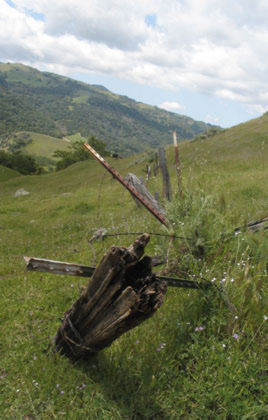 Broken-down fences … can't get enough of 'em.
A cool tree, but perhaps not a totally cool one.
Nobody could figure out what these little guys were, but we liked the looks of them.
Trail's end … as James Brown would say: "Meet Me at the Bridge!"