So I sat on my fanny for five gorgeous, sunny days that were supposed to be a vacation last week. I was figuring on getting in some hikes and maybe a camp-out till the Festival of Phlegm came to town. Didn't really feel up for any outings till Sunday morning, when the Bay Area was enjoying what's apt to be the last rainy weekend till autumn.
Best nearby locale for a rain hike is anywhere in the Santa Cruz Mountains, where a thick tree canopy catches most of the raindrops on the way down. It's not quite dry, but it's way drier than getting caught in a downpour in the open country more typical of East Bay parks. I dug out my guidebook, "California Hiking" by Tom Stienstra and Ann Marie Brown, which described a hike to a sandstone formation called the Tafoni Monolith. Sounded like an interesting chunk of rock, and it's only a mile and a half from the trailhead at El Corte de Madera Open Space Preserve, so if my sniffles came back too strong, I could bail and call it a day after an easy three-miler.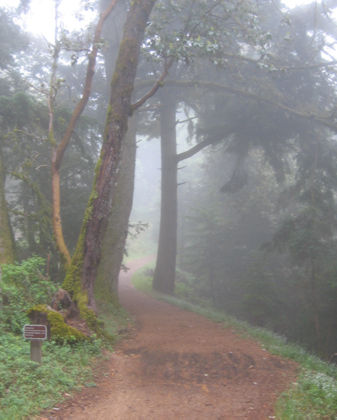 Tafoni Trail, near the Corte de Madera trailhead on Skyline Boulevard. It was spooky fog the whole way.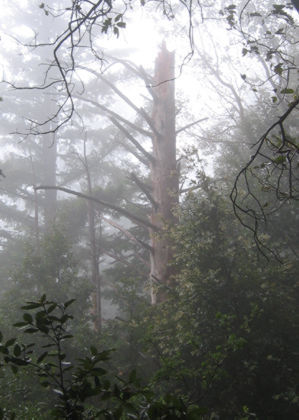 Most of this forest is second growth; the earlier settlers of the region clear-cut most of these hills … good thing it occurred to their grandchildren to preserve the forest if it ever grew back.
Here's the Tafoni Monolith — it's just a great big ol' chunk of sandstone sticking up out of the ground.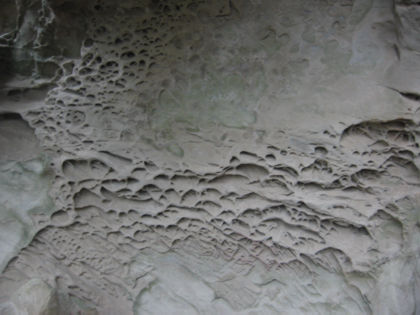 Season after season of rain leaves strange patterns in the sandstone.
A viewing stand at bottom of the rock. I couldn't help think anybody standing there when a major earthquake hits will get squished like a bug.
Petrified tree roots in one of the caverns on the rock.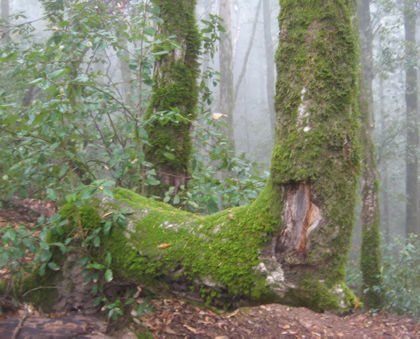 I love it when trees take these strange vertical turns.
The fog makes this picture.
Rain makes the madrone trees all wet and shiny. This one's a bit out of focus because I shot it without the flash, which causes more problems than it solves in a rainy forest.
So I found the cool sandstone formations without too much sweat and wasn't in the mood to turn back, so I decided to see if my map said anything about the wreckage of a plane that crashed nearby in 1953. It was a DC-6 flying in from Hawaii with 19 crew and passengers; none survived.
Turns out the Tafoni Trail intersects with a trail spur that goes over to the Resolution Trail, which is the path would-be rescuers used to reach the crash site. The map says debris from the crash should be left alone; Stienstra's book goes so far as to say there's a curse on anybody who carries any little bits of airplane away from the crash site.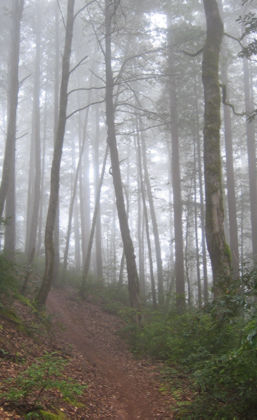 Near the beginning of the Resolution Trail; on a day like this it wouldn't be too hard to convince a 9-year-old these hills are haunted by the flight's ill-fated passengers.
About halfway through the trail, there's a clearing with scattered bits of torn and wrinkled aluminum.
Here's one small chunk of wreckage.
And another chunk.
From the trail I couldn't see anything bigger than these few tattered bits of airplane parts. It's possible more of it's visible in clear weather.
The planes flying into the San Francisco Airport are an eerie reminder of how close they were to their destination, while hiking a few hundred feet from the summit of the mountain range is a reminder of how far off course they were. Wasn't much, really.
(More on the flight here, if you're curious; more debris photos here).