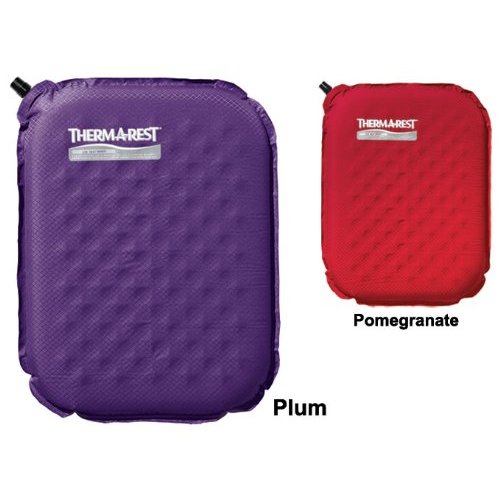 A fanny-sized Therm-a-Rest pad called the Lite Seat was my constant companion for my first few years on Bay Area trails. Small, durable, not too expensive (sub $30), a passable backpacking pillow — it was one of my favorite pieces of gear.
Note the past tense: I used to carry this big orange day pack that zipped all the way down both sides; one time I forgot to zip up one side after a lunch break on the trail at Monte Bello Open Space Preserve. Didn't notice it till I got back to the parking lot at Alpine Ridge OSP and sure enough, my Lite Seat was MIA. I'm hoping some other hiker found it and put it to good use, or perhaps a raccoon dragged it home to her nest so she could kick back in comfort, to the envy of all her neighboring raccoons. If I hadn't just hiked 12 miles, I'd have surely gone back looking for it.
I will note that I was very leery of using it inflated — an inflatable sleeping bad distributes your body weight along its length, while an inflatable butt pad bears all but the weight of your legs. I could never overcome the fear that I'd burst the seams if I used it fully inflated, so I always let about half the air out of it, or just tossed it on the ground uninflated.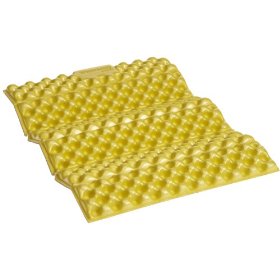 Since I wasn't totally sold on the inflation feature anyway, I thought about replacing it with a Therm-a-Rest Z Seat, which is essentially a sliced-off Z Rest pad, but my wife bought me an inflatable sit pad that REI sells, so I've been using that one since. I use it on most hikes that require a lunch break; don't ask me why I can get knee-deep in filth without hesitation but can't stand having to dust dirt off the bottom of my drawers.
Another Lite Seat side benefit: it can insulate your hydration bladder, keeping it cool in the summer or warm in the winter. I also figured if I ever got hopelessly lost in the woods, I could use it as an extra bit of insulation to sit on all night while I pondered how I would attempt to talk my way out of wandering into somebody's illicit marijuana plantation.
I'm tempted to making a sit pad an 11th entry on my 10 essentials for happy hiking. Hat tip to Sarah at Trail Cooking (nee Freezer Bag Cooking), whose comment at Rick's Best Hike Blog reminded me of the charms of a sit pad.
If you're in a shopping mood and feel like supporting ye ol' blog, shop for one at REI.COM:
Lite Seat (2009) — This is the model pictured above, in two male-plumage-vivid colors that would seem odd on the trail.
Therm-a-Rest Z Seat — cheaper, and will never go flat on you.
Therm-a-Rest Camp Seat — A bit bigger, cushier and pricier than the Lite Seat. Better for car camping than hiking.