In lieu of hiking, I did a whirlwind tour of Hiker Town USA, which some may recognize as the hamlet of Damascus, Va., which becomes Thu-Hiker Central every spring during Trail Days (2010 version is May 14-16).
Two national scenic trails — Appalachian and Virginia Creeper — run through the center of Damascus. While the AT is more famous, the VCT is more accessible: it's an old railroad bed, excellent for bike rides. Shuttle services can take bikers up into the hills and they can ride back to town on a wide, well-graded path.
The AT is another matter: the trail dives down into Damascus and climbs sharply up out of it.

Here's a look at the terrain: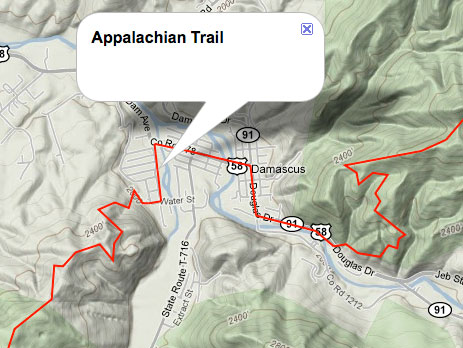 Go here for an interactive Google map of the AT.
Why drive 120 miles to the center of the hiking universe and not do any actual hiking? It's not only because I'm an Internet geek and therefore permanently strange. It's mainly because I like to scope an area out first before devoting multiple hours of walking on dirt. Also: where's the sense in two and a half hours of driving somewhere if you're going to immediately leave on the first trail out of town?
Sometimes I have to see a place in real life before its advantages start to dawn on me. Before I got there, Damascus was just that cool town that went hiker crazy for a few days every spring, then returned to its status as sleepy country town. After seeing a few signs for shuttle services in town, my brain started calculating the town's advantages for casual hikers and backpackers.
For instance, a the wise hiker might be best advised to arrive in town on a Tuesday, hire a driver to ferry your corpus and pack a few days' hike down the trail, and simply walk back to town. You could avoid the mobs of weekend explorers and get a sense of what it's like to hike the whole trail.
Furthermore, as this page on Damascus hiking options reveals, you can avoid the AT altogether and hike the Iron Mountain Trail, or check out the 400 miles of trails in the Mount Rogers National Recreation Area.
A lot more to this town than Trail Days. Some pictures from Saturday's outing:
Laurel Avenue is the main drag through town. Trail Days culminates with a massive thru-hiker parade along this route.
That's the famed Mount Rogers Outfitters across the street (seen from the second floor of the local antiques shop). A few shots from inside MRO:
Grandma Gatewood's hiking shoes. She was the first to thru-hike the Appalachian Trail twice. She didn't take a tent or a backpack — she used a shower curtain for a tarp and kept her gear in a bag tossed over one shoulder.
MRO also has reams of AT-related literature.
More of the store, which has an impressive array of lightweight gear crammed into a relatively small space (I'm guessing your average REI has about the same amount of stuff spread over three times as much area — they're so conservation-minded.)
Snapshots of AT symbols near the store entrance.
Bonus shot: creek along U.S. Highway 52 east of Damascus.
The Virginia Creeper Trail follows this creek out of town.
Damascus links:
Google map to get you to Damascus.

View Damascus, Va in a larger map