The only Silicon Valley CEO who answers my e-mails — Joost Schreve of EveryTrail.com — lobbed a minor bombshell in my in-box this morning with news that he'd sold EveryTrail to TripAdvisor, a subsidiary of the travel giant Expedia.com.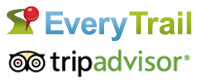 Getting acquired is every scrappy start-up's dearest desire (see "The First $20 Million is Always the Hardest"), so I was glad to be able to at least imagine immense riches for Joost and a few others I know at EveryTrail who busted hump building the company over the past couple years. Terms of the deal weren't disclosed.
So what did TripAdvisor see in EveryTrail? After all, its smartphone apps are already GPS-enabled. While I wouldn't delude myself to think my EveryTrail contributions had much to do with the deal, there's no doubt EveryTrail's focus on outdoor recreation helped get it done. TripAdvisor is all about flights, hotels, rentals and other civilized doings. Its "adventure vacations" rarely ventures beyond famous/obvious locales, while EveryTrail point travelers to dirt-bound destinations by the thousands.
Here's hoping TripAdvisor knows what to do with its new property.