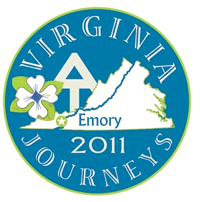 Danny Bernstein plans to be in southwest Virgina for a week's worth of trail-related doings. Among the highlights:
More than 190 miles of the Appalachian Trail are featured in a series of section hikes from Dennis Cove Road in Tennessee to Kimberling Creek in Virginia
"A Hike through the Cultural History of the Carolina Mountains in the Cultural History along the A.T.," presented by Danny.
Excursions such as kayaking on the New River and biking the Virginia Creeper Trail.
Sounds like a slightly more sane alternative to the madness that is Trail Days (though early July will be pretty sweltering.) More on the festival here.
(Don't know Danny? Her This Hiking Life blog is a must read for Carolina hikers.)