Back when I was first getting into hiking, I figured it couldn't hurt to pay a little extra for Gore-Tex or eVent in my footwear. These so-called waterproof-breathable fabrics worked well enough under mild duty — quick strolls across dewy fields in the morning — that the most-of-the-time comfort felt like a good trade-off for those demanding times (drenching rains, for example) when they really didn't keep my feet all that dry.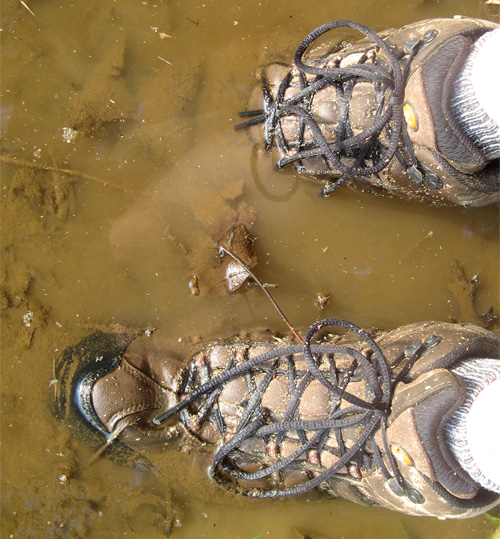 After a few years I concluded "waterproof" was just marketing hype. All my eVent and Gore-Tex footwear has sprung leaks (probably a result of the construction more than the fabric, which sheds water well; it's the "breathable" bit that's oversold). Well, now I own some waterproof boots, and I'm not exactly jumping for joy. Back story:
Last summer I bought a pair of Vasque boots that rubbed me the wrong way — painful as hell no matter how long I tried to break them in. I liked everything else about them, but they rubbed a nerve across my ankle bone, so I had to trade 'em in (props to REI for curing shoe-buyer's remorse). I settled on a pair of Merrell boots that had what I needed: stiff, lugged soles for nasty North Carolina trails and ample padding around my abused ankles.
If you've ever shopped for Merrells, you might've noticed they have Gore-Tex-lined models, and yet another category tagged "WP," meaning waterproof (is Merrell saying its Gore-Tex models aren't waterproof; hmm, I just figured it was because consumers demanded Gore-Tex). Anyway, my WP-tagged Merrells have performed as promised: They're the most water-tight boots I have ever owned.
I can walk across open fields of wet grass without feeling any cold water seeping in; I can stand in creeks with no leaks. The only time any water has gotten in was when I misjudged a section of stream and stepped in over the edges of the boots.
I tried them out again this morning in a pond at the park across the road. No leaks, no seeps. But it was also 80º F in the shade with 95% humidity, so when I got home my socks were drenched anyway, from sweat.
Which just goes to show that gear which performs flawlessly in some conditions might not be worth a damn in others. Good boots aren't cheap, and we'd love to be able to get by with one pair. But there's rarely any single boot that gets the job done 365 days a year.
Here in the Southeast we get absurdly steamy summers. My Merrell WP's are bone dry in the winter, but a tad too soggy in the summer. I wear them anyway because I'm too frugal to spring for a new pair.
So why did I even buy waterproof boots? I suspected they'd be sweltering come July and August, but they were the only models in stock that fit. I can always tell when a boot's going to rub me all the way to blister city. If I'm lucky to find a rub-free pair, I usually buy them.
Even if they're waterproof. I just don't harbor any illusions that water-tightness had anything to do with why I bought them.