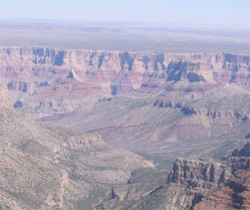 I love it when the New York Times addresses critical hiking issues (so rarely it's actually news around these parts). The issue: a guy hiking in the Grand Canyon ended up dead a couple days after backpackers tried to help him out but he declined to follow their advice to try getting some water out of the Colorado River.
The hotter the climate, the more hairy the decision gets. Do you put yourself at risk to help somebody who's in worse shape? Do you do nothing and hope for the best?
"If giving up water would endanger myself to the point that I would also become a heat casualty, I would not share," Mr. Sucher said. "Rather, I would search for help before one unfortunate hiker turned into two."

This kind of situation has happened before. Shannan D. Marcak, a spokeswoman at the Grand Canyon National Park, said park veterans recalled at least one case in which someone died "trying to provide more help than they could physically afford to provide."
How about it, hikers: What would you do?