Last week Tim Miner, the creator of Trail Sherpa, invited me to get in on the action on his site. He's putting together a team of contributors to the site; it'll be up to me to make sure everybody plays nice and all their contributions make sense.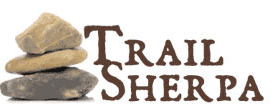 We'll be blogging about gear, great trails and other hike-centric matters.
Why not just do this here on Two-Heel Drive? Mainly because Tim has already gone to the trouble of building a social-networking site designed specifically for hikers, backpackers and others who are into human-powered recreation. Other outdoor sites have social functions tacked on; Trail Sherpa has them baked in.
The advantage to a social-centric site is that it becomes a much better place to hang around and gab with people who speak the same language. Pretty much all the hiking blogs have a Facebook page, but the content is just as dispersed there as it is on the overall Web. It'd sure be nice to have it all in the same place.
Trail Sherpa has a long way to go to make that happen. I'm writing this mainly to say I believe that it can, and to encourage the rest of you to give it a try.