A year ago last weekend I visited the Sunol Wilderness Regional Park for the first time. Since then I've been back to the park at least a half-dozen times. Sunol has just about everything you'd want in a park — scenery, wildlife, trails, campgrounds — and is nearby. Lately I've been doing a lot of training hikes (definition: getting so sweaty you can't see the scenery) to get ready for the vacation in Yosemite National Park that we've had planned since January. I'm also planning to hike to the top of the 10,000-foot-plus Lassen Peak in Lassen Volcanic National Park next week. As a warm-up, I hiked nine miles Saturday from Mission Peak to Ed Levin County Park and another nine or so in Sunol on Sunday; certain leg muscles are complaining this morning.
I took my camera along Sunday so I'd have something to post this morning.
I started out on the Flag Hill Trail, which is up there on the other side of those rocks. The trail isn't especially long — a little over a mile — but it is especially steep, about a thousand feet of climb. The reward for making it to the top is going right back down the other side of the hill for several hundred feet of elevation loss, till you get to the next trail going up the next hill for several hundred feet. I concluded there's no earthly reason to climb Flag Hill except for the workout. The view up there is nice, but hey, Sunol is run rampant with scenic vistas, and you can find almost all of them on less-brutal trails.
Speaking of vistas, here's one looking to the northwest.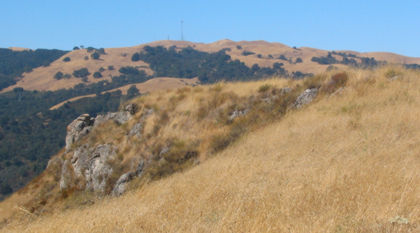 Those are the rocks at the top of Flag Hill. Monument Peak and Mission Peak are way off in the distance. Another great thing about Sunol, from my way of looking at things: I can almost always find my way around by looking for those huge radio towers over near Mission Peak.
I'm all sweaty in the sun and these cows seem to be saying, "even a cow has enough sense to find some shade."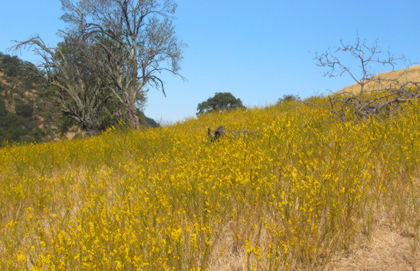 Though brown is the operative tone in the East Bay Hills this time of year, the hillsides have splotches of bright, vivid color.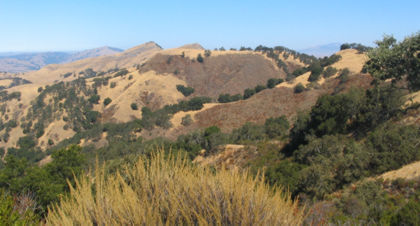 Quite a bit of green on these hillsides, too. These hills are dotted with little springs, which keep the trees green all year. The grass hibernates in the summer, then comes back bright green when the winter rains return.
The far end of that reservoir is just a few miles from our place. The hills in the far distance, beyond the cloud layer, are the Santa Cruz Mountains on the west side of Silicon Valley.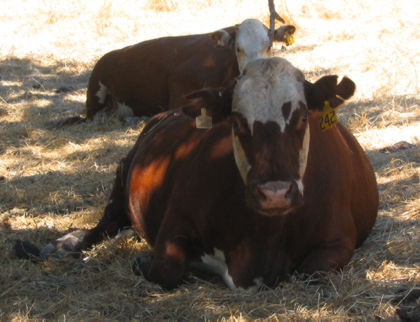 This young lady wishes her keeper had better taste in earrings.
Another required dead-tree photo.
Yeah, there's a bit of color happening this time of year, but you have to look a bit closer to see it.
Starting next weekend I'm on vacation for two weeks, so posting may be spotty, but what I post should be worth seeing, as it'll be from volcanic peaks and the Yosemite high country.