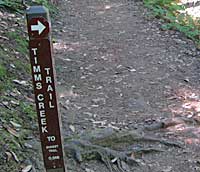 Timms Creek Trail connects the Skyline-to-the-Sea Trail and the Sunset Trail at Big Basin Redwoods State Park. It's a quiet, secluded, rarely used trail that offers a great escape route if you feel you're not up for the whole 12 miles of the loop out to Berry Creek Falls. You'll still be in for eight miles of the usual Big Basin wonderfulness with over 1,500 feet of elevation gain, so you'll still work up a sweat if you're into that.
Here's my map of Monday's travels.
(Base map courtesy of Virtual Parks)
Note Timms Creek Trail is on the far western side of the map. I took a silly southern detour because I simply had to check out the blocked patch of the Skyline-to-the-Sea Trail and felt like walking some trail I hadn't walked before. At first it's ancient redwoods galore, then it turns into some road walking, then trudging, up to the point where the Skyline trail continues west of Middle Ridge road.
A more sane route: Taking Sunset Trail across Middle Ridge Road and hanging a left at the connector trail over to Skyline-to-the-Sea, heading west down into the the park to Timms Creek, turning right (north) and heading back to Sunset and returning. It's all uphill back to Middle Ridge this way, but frankly, but the grade is more gradual returning on Sunset than it is on Skyline-to-the-Sea.
One other trail note: the little bump off the Skyline trail on the map here is the "alternate trail" — this is a great little spur that crosses Kelly Creek a couple times and really gets deep into the heart of Big Basin. Highly recommended.
So let's look at some pictures. I was there at the worst possible time for photography: midday under full sun; you're lucky to come home with any worthy shots under these conditions because there's no gradual shift from shade to full sun: sunny areas get overexposed and shady spaces come out too dark. Those are my excuses and I'm sticking to them.
This is a section of trail just west of the Skyline-to-the-Sea trail turn-off, which is currently blocked. A pretty little bit of trail, but over much too soon.
Not much of a picture, but it was the best I could do to illustrate the "fairy ring" phenomenon of Coast Redwood reproduction (tree sex, woo-hoo!): each tree sends out shoots in a circle around its trunk, making the effect most pronounced around the stumps of old-growth redwoods lost to the logging era (you have to admit, though, that Mother Nature gets her revenge: one dead tree yields a half-dozen live ones).
So I come back from every hike with one of these shots. They can't hope to capture the magic of standing beneath one and just looking up and up and up till the trees merge with the sky, but they're still pretty cool.
Some kind of brass marker installed by the parks department.
Banana slug pauses for its closeup.
A shot of the Timms Creek Trail. The creek offers a pleasant running-water sound for the first half-mile or so. This link between Skyline-to-the-Sea Trail and Sunset Trail is just under a mile long; all uphill if you go south to north, but a mild climb most of the way.
Big Basin gets tons of foot traffic on the weekends; this'd be a nice getaway from the throngs.
A hint at the violence of giant redwoods coming to pieces, examples of which are numerous along the Sunset Trail. The broken trees are a feast for the eyes, but most cameras can't come close to capturing what they look like (all the more reason to get out there and see 'em for yourself.)
I haven't lost my fondness for dead-tree pictures.
All in all, another excellent Big Basin hike, proof there's no bad time to see the redwoods.
More Big Basin linkage:
Here's a Google map to the park headquarters.

View Big Basin Redwoods State Park in a larger map